Therapeutic Music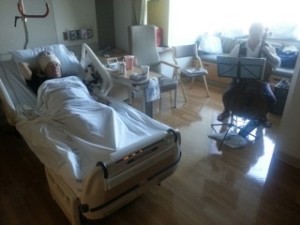 Honoring people during times of transition in one's life
Jackie has also recently graduated from the American Standards Board of Therapeutic Musicians Harp for Healing sponsored "Clinical Musician Certification Program , she is now playing as a CERTIFIED CLINICAL MUSICIAN (CCM) with her solo cello at the Intensive Care Unit at St. Lucie Medical Center in Florida. Jackie plays for patients, as well as for their family members and the healthcare staff.
The Treasure Coast Hospice Care patients are also the recipients of her healing music efforts.
She hopes to offer this service privately and to healthcare facilities, including the Palm Beach County Hospice now that she is a CCM.
In a mindful and respectful manner, I wish to share a sensitivity I developed over 30 years of having opportunities to privately serve friends and family members in need. The old quote that "MUSIC HATH CHARM to SOOTHE…" is true. With the help of music, anxiety and discomfort temporarily dissolve. This can bring great comfort to those close at hand. It is my hope that in the honoring of their life with this gift of music, respect and joy will be brought into an often difficult situation. Science proves the brain can refocus.
You may choose for yourself and/or your loved ones a pathway of MUSIC to help sublimate pain and discomfort. Experience shows that the mind, body, and soul find relief by focusing on the vibrations of music, especially through the heartwarming sounds of the CELLO. The beautiful sound of the cello tends to first ground people, and then reaches in to the heart and soul, actually helping to SOOTHE and COMFORT.
After 45+ years of playing classical and popular music on the cello, I offer to you:
BACH solo Cello Suites
Melodies from the Classics
Jazz from the Swing era; Gershwin, Cole Porter
Examples of songs available –
"Over The Rainbow"(Wizard of Oz)
"Somewhere" (West Side Story)
"When You Wish Upon A Star" (Pinocchio)
& for esteemed elders, who went dancing – Reminisce to the tunes of  ELLA & LOUIE
Special Requests will always be considered:
Any current pop themes, such as:
"I'm Yours"; "Lucky" -Jason Mraz
"Viva la Vida" – Coldplay
"Smile" – Charlie Chaplin
The cello's body shape and note range are uniquely similar to the human body size and vocal range.
Actual quotes from elders regarding the cello being played for them near their bedside:
 "Playing Bach on your cello for me works better than morphine…"
"I can use all the good vibrations I can get!"
   ************************
Have you ever considered giving the gift of live music?
With deep respect and genuine interest in helping the patient to feel better,
I hope to attend to their needs by communicating through music in the present moment.
Therapeutic Cello:
Seattle Cancer Care Alliance-WA
Fred Hutchinson Cancer Research Center-Seattle, WA
Evergreen Hospital Hospice Care-Kirkland, WA
Allegro Independent & Assisted Living-Stuart, FL
Harbor Place – Port St. Lucie
Life Care Center of Port St. Lucie
Family Manors -Stuart, FL
Artesian Wellness Center -Stuart, FL
Treasure Coast Hospice-Florida -Stuart, Palm City, Port St. Lucie, Ft. Pierce
St. Lucie Medical Center
Martin Memorial Hospital
Palm City Nursing & Rehab
I have been playing for people who were ill, at either their own or a family member's request, since the early 1970's. The cello seems to have a particular quality that affects people positively.
Resonating somehow with the human heart, the response to the music is often calming to the person going through the sometimes confusing and agitating state of body and mind under the duress if ill health.
Many people bring in aides to perform various other functions from "doing their nails", to "shifting the bed pillows". I will bring my music to share, as this is not only a service, it is a gift to give and receive back from gratefully.
WHY NOT SUGGEST SENDING LIVE MUSIC INSTEAD OF FLOWERS?
Individualized for the Listener
Please contact me for my "Therapeutic Cello Music" brochure.
Rates are available upon request
I will drive to any site needed and adjust the compensation upon mutual agreement.
"THERE'S ALWAYS ROOM FOR CELLO"